Harris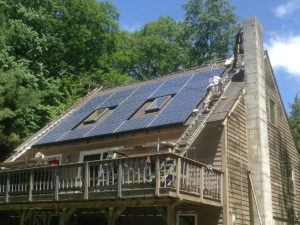 6.37 KW
Enphase Microinverter PV
Rail-less Mounting;
MERI volunteer build
"Greg has been an absolute delight to deal with! I met him at a Monadnock Energy Resource Initiative meeting in March 2014. I was very impressed with both his knowledge of the business, and even more so by his easy going demeanor. 
Very shortly after I contacted him for an estimate on one of my homes. He showed up promptly, explained what he was doing and how he was going to arrive at a figure and asked for info from me so he could size the project to our needs and finances.
We agreed, set a date of June 14, 2014. He was reasonable in the payment plan and the day before the install, he dropped all the materials off, explained what they were, made sure I understood the procedure etc, etc.
It was a pretty big install- 26 panels and it was all done in a day and a half! He contacted the utility company to do meter changes and suggested something to gain an even larger state rebate than I was expecting!
After 11 months I AM ECSTATIC with the results. My electric bill has gone from 180-200 a month to like $38!!!!!  With all the rebates, Federal tax credits etc, I think I will have a 5- 6 year payback. You just can't beat that on any major investment.
You can't go wrong with Greg Blake and South Pack Solar!"
Paul Harris, Fitzwilliam, NH
203.434.3678 • [email protected]
6.37 kw system